I had it in my head that I wasn't going to do any of these blog hops.
I kind of thought I was being a sell out.
Then I realized, "You idiot, how in the world are you going to make friends on here, and get your blog out in the blogosphere?!"
So I have begun searching for beautifully made blog hops that have quality blogs and truly beautiful women on the inside, and out. Aren't we all?
Here is one that I have found, that has good morals and rules that I can stand to abide by.
Social Parade Follow Friday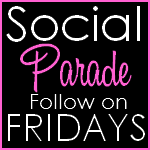 I can't wait to have more follower's and hopefully make some new friends through this whole process!
Thanks ahead for all of you that comment, I am off to go find some of you now!
Elizabeth